Podcast: Play in new window | Download
The Turning Cart Wheels Podcast:
Episode 009: No Complaints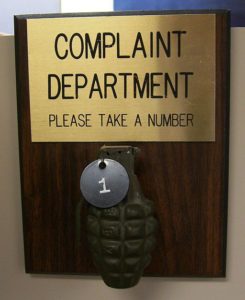 In this week's show we discuss something we've likely all done and that is venting to a coworker. Otherwise known as… airing complaints. 
In this Solo Format Show I discuss:
The nature of venting… is it good? is it bad? Is it both?
What should we consider before we vent?
What are some alternatives to venting or ways to get out in front of things so we won't feel the need to vent so much?
ERRATA: I refer to the 15 minute Journal… it's the 5 Minute Journal ALSO I call it the "25 day No Complaint Challenge" it's actually "The 21 day No complaining experiment" my apologies! Check the resources links below for the correct info.
Thank you to Kori Miller for her iTunes review of the show as well as her kind shout out on her AWESOME show The Womanly Art of Self-Defense.
Find Kori Miller online:
Facebook:https://www.facebook.com/KoriMillerSpeaks
Twitter: https://twitter.com/KMillerWrites
Podcast: http://womanlyartofselfdefense.com/ 
Amazon.com: http://www.amazon.com/Kori-Miller/e/B005F779EI/ref=dp_byline_cont_pop_ebooks_1
Also we are proud members of the Electronic Media Collective Podcast Network
Resources:
https://www.psychologytoday.com/blog/evolution-the-self/201404/6-virtues-and-6-vices-venting
https://www.psychologytoday.com/blog/design-your-path/201108/anger-management-the-five-ws-healthy-venting
http://fourhourworkweek.com/2015/11/29/magic-of-mindfulness/
http://www.fiveminutejournal.com/
http://fourhourworkweek.com/2007/09/18/real-mind-control-the-21-day-no-complaint-experiment/
Read more at http://www.cartwheelspodcast.com